Delivering innovative design solutions for one-of-a-kind, challenging architectural 
Have you ever thought how far design might go? Round lifts are the answer. Round doors represent the top line in aesthetic and technological level, both on the design and production viewpoints. 
Typically installed in panoramic lifts, round doors have to show all those top-level features that are needed in top-level aesthetic designs. Panoramic lifts are the main examples in which underdriven operators are almost a must, reducing the visible size of the cabin and hiding mechanisms under the floor level. Last but not least, panoramic lifts are often installed in high-traffic environments, that means high flows of people. 
All of these requirements result in a high-performance and good looking product, Sematic 2000 R, that can give a plus to your elevator, making it not only a service element but also an architectural one.
 Product Range
Model
TB min-max (mm)
TH min-max (mm)

 K-S 2Z


800 - 1200
 
2000 - 2200

Note:Minimum cabin internal diameter 930mm
For further infomation see our technical catalogues
 

 Bottom Track Park Overall Dimension (mm)
Opening
K(car)
S(landing)
Pack(1)

 2Z


45
 
105
180

(1) 30mm bottom track distance
Door Opening Type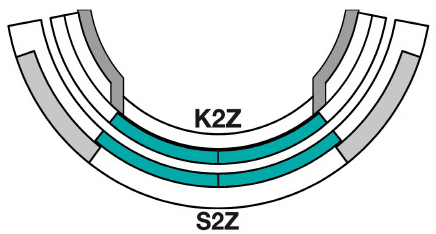 FIRE RATED EXECUTIONS - EN 81-58
 Model
Steel Doors
Framed Glass Doors

 S 2 Z


E 120
EW 60
 
-
 Many other certifications available. Call for information.
 DOOR AND FRAME FINISHES
STANDARD
OPTIONS
 

RAL 7032 

 Other RAL Colours

 Framed glass panels and side posts

 Stainless steel claddings

 Skin plate claddings
 BOTTOM TRACK
STANDARD
OPTIONS
 

Galvanized

 

Stainless Steel
 MAIN FEATURES
STANDARD
OPTIONS

 Certified locking device

EN81-1/2
EN81-20/50

 Position of the lock release

Integrated into the
header
In the side post

 Door closing

Counterweight

 Door panels

Single skin
Double skin

 Header height

280 mm

 Frame

400×60 mm door posts
Reduced door posts
(min. 100×45 mm)
Increase door posts
(> 400 mm)

 Installation

In the shaft
In niche
 

Kit man in the pit

In case of EN81-20/50
In case of EN81-1/2

 Monostable contact

 Impact robust
 packaging
Cardboard box
Wood (ISPM15)
 SPECIAL EXECUTION
OPTIONS
 

Portal execution

 

Smoke-seal/Air-seal execution

 

Anti-vandal execution

EN81-71

 

Underdriven operator