Opis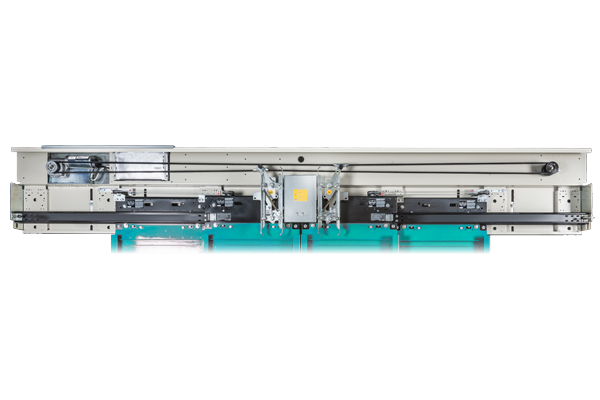 Providing flexible solutions to satisfy the needs of goods transportation in every industry

A door for freight elevator needs to be not only robust, but it has also to guarantee safety and reliability in all operative conditions, even in the extreme ones. 

Sematic 2000 B-G satisfies these requirements thanks to a set of constructive solutions specially designed for this application such as reinforced expansion skate, frame and panels, increased rollers and steel upper tracks. 2000 B-G features door posts partially on the floor assuring easy and stable installation. 

It's available in a wide range of fire rated certifications, anti-vandal executions, with glass panels and many more. 2000 B-G is the ideal solution for elevators in airports, undergrounds, railway stations, shopping centers, hospitals, industrial buildings, multi-floor parking and in all those applications where the doors can be potentially hit. 
 Product Range
Model
TB min-max (mm)
TH min-max (mm)

 K-S 2R/L

1000 - 2000
2000 - 3500

 K-S 3R/L

1000 - 2000
2000 - 3500

 K-S 2Z

1000 - 2000
2000 - 3500

 K-S 4Z

1000 - 3500
2000 - 3500

 K-S 6Z

1400 - 3500
2000 - 3500

For further infomation see our technical catalogues

 

 Bottom Track Park Overall Dimension (mm)
Opening
K(car)
S(landing)
Pack(1)

 2R/L

90
135
255

 3R/L

135
180
345

 2Z

45
90
165

 4Z

90
135
255

 6Z

135
180
345

(1) 30mm sillk distance
 STANDARD MOTORIZATION
 Belt-driven operator with 24 Vdc optical encoder controller motor, SDS DC-PWM technology with  integrated switching transformer
 • Power supply voltage;90-290 Vac (115 V -20%,+26%),50-60 Hz with intergrated switching
 • Power rated 200 VA
 • Emergency power supply 24/36Vdc
 • Operating tenperature range -10°C to +60°C
 • Operating humidity range: up to 80%
 • On-board obstacle detection (door re-opening) feature
 • Opening and closing speed adjustable separately
 • Self-learning cycle and automated speed profiles setting integrated
 
 DOOR AND FRAME FINISHES
STANDARD
OPTIONS
 

RAL 7032 powder coating

 Other RAL Colours

 Framed Glass 

 Frameless glass 

 Stainless steel claddings

 Skin plate claddings
 BOTTOM TRACK
STANDARD
OPTIONS
 

Aluminum

 

Steel

 

Stainless Steel

 

 

Brass - Bronze

available for all doors type
 MAIN FEATURES
STANDARD
OPTIONS

 Car door locking device

EN81-20/50
EN81-1/2

 Skate

Expansion

 Motorization

See pag. 5 
Brushless with AC-VVVF - technology

 Door controller

SDS DC PWM
Other door controllers available.
Please contact our sales department.

 Door panels

  Single skin 
Double skin/
Vision panel

 Detecting system

Static/Dynamic

 Operator height 

445mm
340mm for 2RL, 2Z and 4Z 
410 mm for 3RL and 6Z

 Average car door cycles  per year

650.000
 Impact robust
 packaging
Cardboard box
Wood (ISPM15)
 SPECIAL EXECUTION
OPTIONS
 

Anti-vandal execution

EN81-71
 

Hidden bottom track

(no 3R/L and 6Z)

 Marine execution