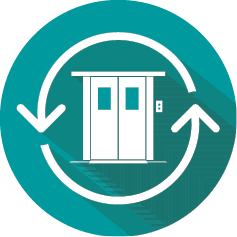 AMD
è un meccanismo per porte di piano compatibile con qualsiasi tipo di applicazione: dagli edifici residenziali ai luoghi molto frequentati, come uffici e hotel.
Grazie al concetto modulare, AMD può essere adattato in modo ottimale a ogni applicazione. Le dimensioni compatte assicurano un'elevata flessibilità, soprattutto nel caso di modernizzazione.
Vantaggi:
Modulare (è possibile abbinare AMD1 e AMD2 a qualsiasi tipo di porta di piano o di chiusura della cabina)
Design compatto e robustonAmpia gamma, con 9 tipi di porta
Adatto a un'anta singola di peso fino a 125 kg
Numerosi componenti e pacchetti di ammodernamento disponibili
Prodotto globale: AMD2 è conforme alle norme EN81, CSA NRTL/C, AS1735.2 e Hong Kong "code of practice"
Attenzione: in questa sezione sono disponibili solo alcuni documenti. Puoi consultare tutti i documenti dalla sezione SERVIZI > RICERCA E DOWNLOAD DOCUMENTAZIONE e tutti i certificati dalla sezione SERVIZI > RICERCA CERTIFICATO.
Documenti disponibili
3 files
Let's meet at Interlift!
Book your slot with Wittur Sales Team.
Book now!