SGB 01-02-03-05:Paracaídas progresivo unidireccional para velocidades medias.
Progressive scalable safety gear applicable for a wide range of loads.
Superb solution for car but also counterweight installation due to reduced width dimensions. Many modernization packages available. Available with compliance for many global lift norms and directives.
USP's:
Paracaídas de activación en bajada
Su poder de frenado se genera a través de unas zapatas movibles con perfil en C
Amplia gama de aplicación (también disponible en Duplex
El paracaídas permite diversas posibilidades de posicionamiento (arriba o abajo) para su funcionamiento
Se puede dotar al paracaídas con varias opciones como soportes, sincronización y punto de amarre para el cable del limitador para ampliar aún más sus prestaciones
Up to 3,5 m/s
Direction
Unidirectional
Min. Rated Speed (m/s)
0,15
Max. Rated Speed (m/s)
2,50
Max. Tripping Speed (m/s)
3,55
Min. Mass to be gripped (kg)
500
Max. Mass to be gripped (kg)
9.200 (SGB03 - Duplex 17.692 kg)
Min. Rated Load (kg)
-
Max. Rated Load (kg)
-
UCM Brake/EN 81-21 stopping gear
-
Guide Rail Blade (mm)
8 - 32
Guide Rail Conditions (*)
MO | MD | DO | DD
EN 81-20/50:2014
X
GOST R 53870-2010
X
GB 7588
X
KOREA
X
ASME A17.1
X
* MO = Machined Oiled
DO = Drawn Oiled
MD = Machined Dry
DD = Drawn Oile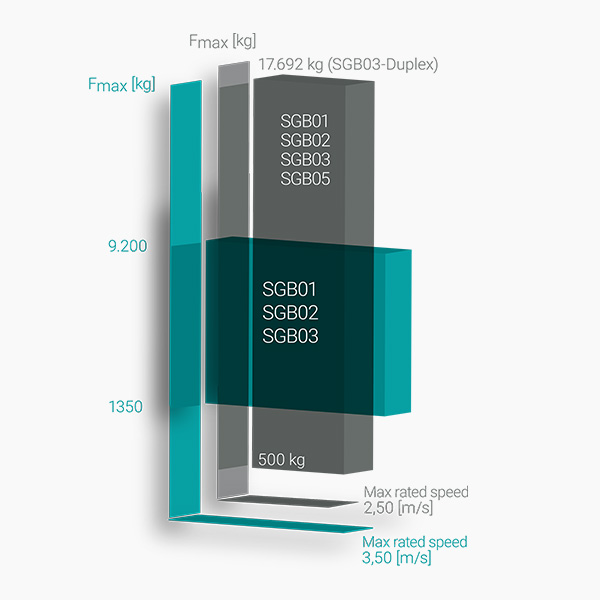 Tenga en cuenta que ésta es sólo una selección de todos los documentos disponibles. Puede acceder a todos los documentos desde la página SERVICIOS > BÚSQUEDA Y DESCARGA DE DOCUMENTOS y a todos los certificados desde la página SERVICIOS > BÚSQUEDA DE CERTIFICADOS.