WCWSG10:Paracaídas progresivo unidireccional para chasis de contrapeso.
Sistema innovador patentado: la tensión del frenado progresivo se genera por un cuerpo principal en el paracaídas que contienen unos perfiles en C que se expanden y actúan como un muelle tipo-C.
USP's:
Ligero diseño: no se requieren muelles adicionales. Unidad compacta que incluye sincronización para contrapesos
Su confortable suspensión de flotación garantiza un ajuste sencillo y preciso con la guía
De fácil ajuste a cualquier tamaño y forma de guía gracias a sus zapatas movibles
Con un completo rango de cargas desglosado en varios tipos de forma que no se requiera un ajuste específico dentro de cada rango
Disponible como opción su integración en los largueros del bastidor de forma vertical u horizontal
Amplia gama de opciones disponibles en soportes de paracaídas, sincronizadores, fijaciones de cables de limitador o contactos de paracaídas
Up to 8,00 m/s
Direction
Unidirectional
Min. Rated Speed (m/s)
2,00
Max. Rated Speed (m/s)
8,00
Max. Tripping Speed (m/s)
10,50
Min. Mass to be gripped (kg)
1.500
Max. Mass to be gripped (kg)
5.000 (duplex 9.500 kg)
Min. Rated Load (kg)
-
Max. Rated Load (kg)
-
UCM Brake/EN 81-21 stopping gear
-
Guide Rail Blade (mm)
16 - 19
Guide Rail Conditions (*)
MD
EN 81-20/50:2014
X
GOST R 53870-2010
X
GB 7588
X
KOREA
X
ASME A17.1
X
* MO = Machined Oiled
DO = Drawn Oiled
MD = Machined Dry
DD = Drawn Oiled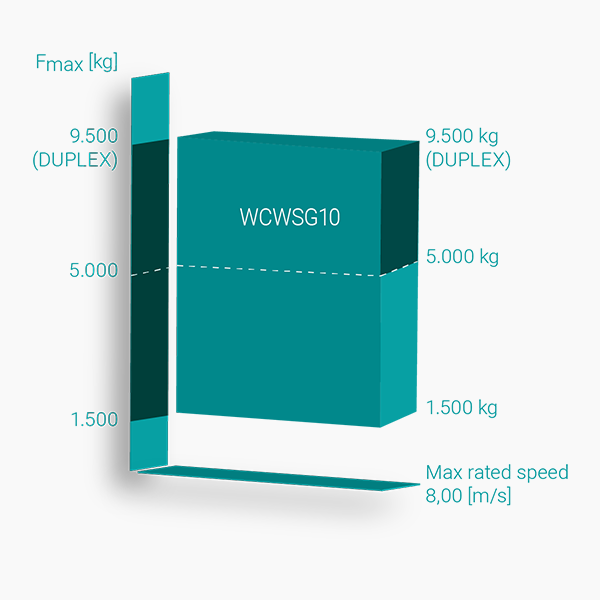 Tenga en cuenta que ésta es sólo una selección de todos los documentos disponibles. Puede acceder a todos los documentos desde la página SERVICIOS > BÚSQUEDA Y DESCARGA DE DOCUMENTOS y a todos los certificados desde la página SERVICIOS > BÚSQUEDA DE CERTIFICADOS.
Let's meet at Interlift!
Book your slot with Wittur Sales Team.
Book now!