WSGB10:Paracaídas progresivo unidireccional para alta velocidad
Single-direction progressive safety gear applicable for a wide range of loads.Superb solution for car but also counterweight frame installation due to reduced width dimensions (modernization packages available). Brake pads from the automotive industry prevent visible wear on guide rails. Available for many global major elevator norms and directives.
USP's:
El paracaídas actúa en bajada
Fuerza de frenado constante generada a través de discos de muelle precargados
Deceleración fija a lo largo de toda la distancia de frenado
Diseñada para evitar marcas de desgaste en las guías
Disponibles diversas opciones para diferentes aplicaciones
Up to 8,00 m/s
Direction
Unidirectional
Min. Rated Speed (m/s)
2,00
Max. Rated Speed (m/s)
8,00
Max. Tripping Speed (m/s)
10,50
Min. Mass to be gripped (kg)
1.500
Max. Mass to be gripped (kg)
5.000 (duplex 9.500 kg)
Min. Rated Load (kg)
-
Max. Rated Load (kg)
-
UCM Brake/EN 81-21 stopping gear
-
Guide Rail Blade (mm)
16 - 19
Guide Rail Conditions (*)
MD
EN 81-20/50:2014
X
GOST R 53870-2010
X
GB 7588
X
KOREA
X
ASME A17.1
X
* MO = Machined Oiled
DO = Drawn Oiled
MD = Machined Dry
DD = Drawn Oiled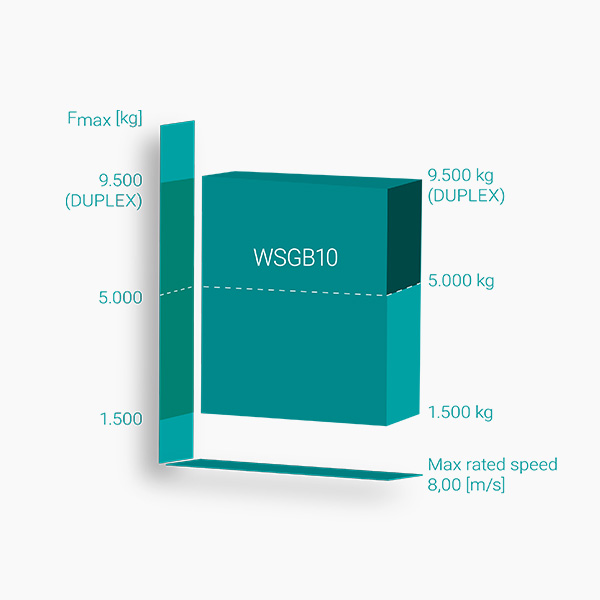 Tenga en cuenta que ésta es sólo una selección de todos los documentos disponibles. Puede acceder a todos los documentos desde la página SERVICIOS > BÚSQUEDA Y DESCARGA DE DOCUMENTOS y a todos los certificados desde la página SERVICIOS > BÚSQUEDA DE CERTIFICADOS.