WCWSG01/02/03/05:Paracaídas progresivo unidireccional para chasis de contrapeso
USP's:
El paracaídas se activa en bajada
La tensión del frenado se genera por un cuerpo principal en el paracaídas que contienen unos perfiles en C que se expanden
Amplio rango de aplicación (disponible también en Duplex)
El paracaídas permite diversas posibilidades de posicionamiento (arriba o abajo) para su funcionamiento
Se puede dotar al paracaídas con varias opciones como soportes, sincronización y punto de amarre para el cable del limitador para ampliar aún más sus prestaciones
Up to 3,5 m/s
Direction
Unidirectional
Min. Rated Speed (m/s)
0,15
Max. Rated Speed (m/s)
3,50
Max. Tripping Speed (m/s)
4,89
Min. Mass to be gripped (kg)
500
Max. Mass to be gripped (kg)
9.200 (SGB03 - Duplex 17.692 kg)
Min. Rated Load (kg)
-
Max. Rated Load (kg)
-
UCM Brake/EN 81-21 stopping gear
-
Guide Rail Blade (mm)
8 - 32
Guide Rail Conditions (*)
MO | MD | DO | DD
EN 81-20/50:2014
X
GOST R 53870-2010
X
GB 7588
X
KOREA
X
ASME A17.1
X
* MO = Machined Oiled
DO = Drawn Oiled
MD = Machined Dry
DD = Drawn Oile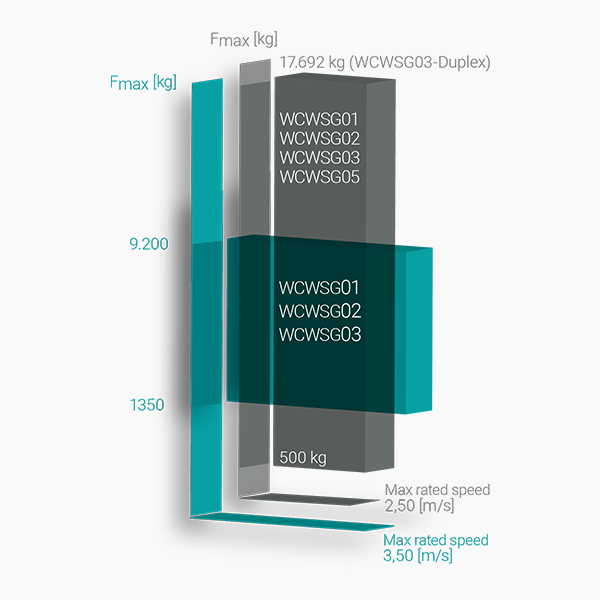 Tenga en cuenta que ésta es sólo una selección de todos los documentos disponibles. Puede acceder a todos los documentos desde la página SERVICIOS > BÚSQUEDA Y DESCARGA DE DOCUMENTOS y a todos los certificados desde la página SERVICIOS > BÚSQUEDA DE CERTIFICADOS.
Let's meet at Interlift!
Book your slot with Wittur Sales Team.
Book now!