SGB 01-02-03-05: Paracadute unidirezionale progressivo per impianti di media portata.
Progressive scalable safety gear applicable for a wide range of loads.
Superb solution for car but also counterweight installation due to reduced width dimensions. Many modernization packages available. Available with compliance for many global lift norms and directives.
Vantaggi:
Paracadute unidirezionale verso il basso
La forza frenante è generata dall'espansione del profilo a C del corpo paracadute
Ampia gamma di applicazione (disponibile anche come adattamento Duplex)
Possibilità di differenti punti di ancoraggio (sopra o sotto) tra il meccanismo di attuazione e i cunei
Varie opzioni disponibili quali alloggiamento del paracadute, barra di sincronizzazione o attacco fune del limitatore, assicurano la massima flessibilità
Up to 3,5 m/s
Direction
Unidirectional
Min. Rated Speed (m/s)
0,15
Max. Rated Speed (m/s)
3,50
Max. Tripping Speed (m/s)
4,89
Min. Mass to be gripped (kg)
500
Max. Mass to be gripped (kg)
9.200 (SGB03 - Duplex 17.692 kg)
Min. Rated Load (kg)
-
Max. Rated Load (kg)
-
UCM Brake/EN 81-21 stopping gear
-
Guide Rail Blade (mm)
8 - 32
Guide Rail Conditions (*)
MO | MD | DO | DD
EN 81-20/50:2014
X
GOST R 53870-2010
X
GB 7588
X
KOREA
X
ASME A17.1
X
* MO = Machined Oiled
DO = Drawn Oiled
MD = Machined Dry
DD = Drawn Oile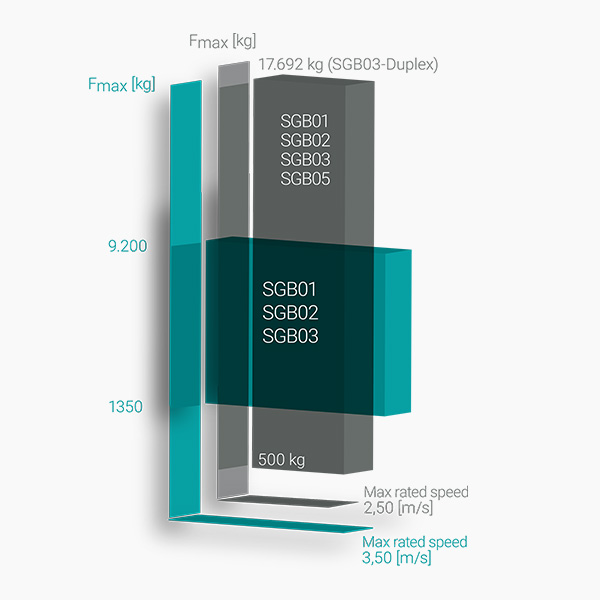 Attenzione: in questa sezione sono disponibili solo alcuni documenti. Puoi consultare tutti i documenti dalla sezione SERVIZI > RICERCA E DOWNLOAD DOCUMENTAZIONE e tutti i certificati dalla sezione SERVIZI > RICERCA CERTIFICATO.