WCWSG10: Paracadute unidirezionale progressivo per velocità elevata
Dispositivo di sicurezza progressivo unidirezionale che include la sincronizzzazione del paracadute. Soluzione eccellente che assicura un allineamento semplice ed accurato in relazione alla guida.
USP's:
Facili adattamenti alla dimensione e alla forma della guida (corpi dei dispositivi di sicurezza rimovibili)
Sistema innovativo e collaudato: la forza frenante del paracadute è generata da molle a tazza precaricate
Integrazione del paracadute alle travi verticali o orizzontali (disponibile come opzione)
L'intera gamma del prodotto è suddivisa in fasce; nessuna regolazione richiesta all'interno della stessa fascia
Ampia gamma di opzioni disponibili: alloggio del paracadute, barra di sincronizzazione, ancoraggio funi o contatti di sicurezza
Up to 8,00 m/s
Direction
Unidirectional
Min. Rated Speed (m/s)
2,00
Max. Rated Speed (m/s)
8,00
Max. Tripping Speed (m/s)
10,50
Min. Mass to be gripped (kg)
1.500
Max. Mass to be gripped (kg)
5.000 (duplex 9.500 kg)
Min. Rated Load (kg)
-
Max. Rated Load (kg)
-
UCM Brake/EN 81-21 stopping gear
-
Guide Rail Blade (mm)
16 - 19
Guide Rail Conditions (*)
MD
EN 81-20/50:2014
X
GOST R 53870-2010
X
GB 7588
X
KOREA
X
ASME A17.1
X
* MO = Machined Oiled
DO = Drawn Oiled
MD = Machined Dry
DD = Drawn Oiled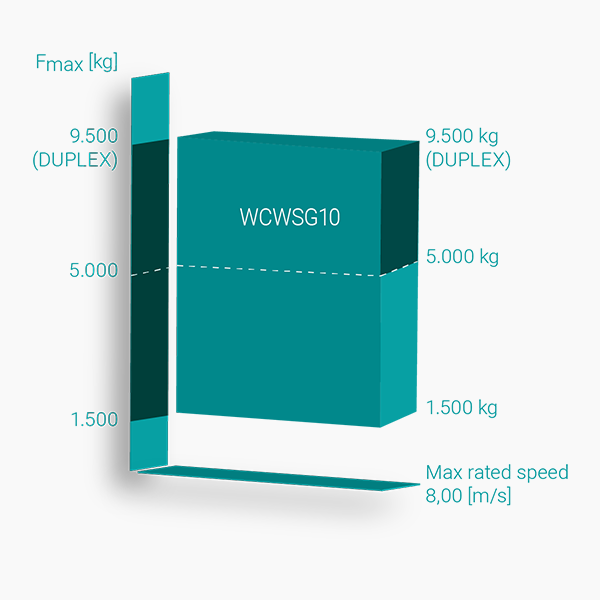 Attenzione: in questa sezione sono disponibili solo alcuni documenti. Puoi consultare tutti i documenti dalla sezione SERVIZI > RICERCA E DOWNLOAD DOCUMENTAZIONE e tutti i certificati dalla sezione SERVIZI > RICERCA CERTIFICATO.