WCWSG01/02/03/05:Richtingsafhankelijke vang voor het tegengewicht.
USP's:
Vang werkt in neerwaartse richting
Braking power is generated by expanding the C-profiled safety gear block
Grote inzetbaarheid (ook als Duplex uitvoering beschikbaar)
Different connections (top or bottom) from actuating mechanism to gripping wedges available
Verschillende opties zoals vanghuis, koppelstang of aangrijpingspunt snelheidsbegrenzer mogelijk
Up to 3,5 m/s
Direction
Unidirectional
Min. Rated Speed (m/s)
0,15
Max. Rated Speed (m/s)
3,50
Max. Tripping Speed (m/s)
4,89
Min. Mass to be gripped (kg)
500
Max. Mass to be gripped (kg)
9.200 (SGB03 - Duplex 17.692 kg)
Min. Rated Load (kg)
-
Max. Rated Load (kg)
-
UCM Brake/EN 81-21 stopping gear
-
Guide Rail Blade (mm)
8 - 32
Guide Rail Conditions (*)
MO | MD | DO | DD
EN 81-20/50:2014
X
GOST R 53870-2010
X
GB 7588
X
KOREA
X
ASME A17.1
X
* MO = Machined Oiled
DO = Drawn Oiled
MD = Machined Dry
DD = Drawn Oile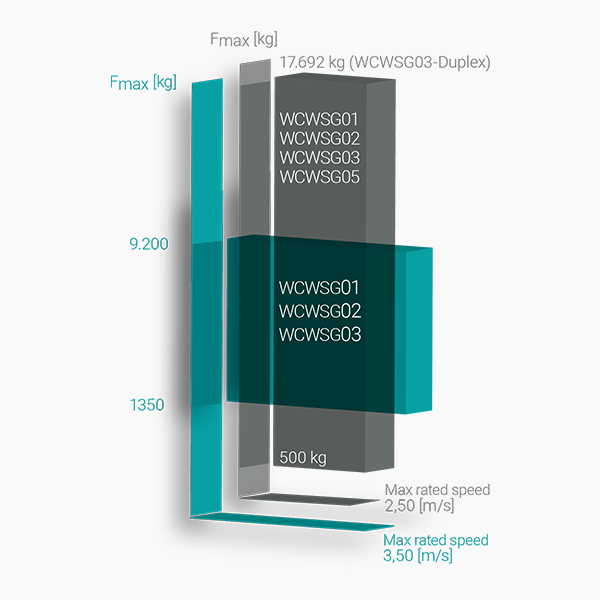 Dit is slechts een selectie van alle beschikbare documenten. U hebt toegang tot alle documenten via de pagina DIENSTEN > DOCUMENTEN ZOEKEN EN DOWNLOADEN en tot alle certificaten via de pagina DIENSTEN > CERTIFICATEN ZOEKEN.
Let's meet at Interlift!
Book your slot with Wittur Sales Team.
Book now!