WSGB10: Richtingsafhankelijke remvang voor hoge snelheid
Single-direction progressive safety gear applicable for a wide range of loads.Superb solution for car but also counterweight frame installation due to reduced width dimensions (modernization packages available). Brake pads from the automotive industry prevent visible wear on guide rails. Available for many global major elevator norms and directives.
USP's:
Vang werkt in neerwaartse richting
Constante remkracht gegenereerd door voorgevormde schotelveren
Geleidelijke vertraging gedurende de gehele remweg
Ontworpen om beschadigen leiders tegen te gaan
Verschillende opties voor diverse toepassingen leverbaar
Up to 8,00 m/s
Direction
Unidirectional
Min. Rated Speed (m/s)
2,00
Max. Rated Speed (m/s)
8,00
Max. Tripping Speed (m/s)
10,50
Min. Mass to be gripped (kg)
1.500
Max. Mass to be gripped (kg)
5.000 (duplex 9.500 kg)
Min. Rated Load (kg)
-
Max. Rated Load (kg)
-
UCM Brake/EN 81-21 stopping gear
-
Guide Rail Blade (mm)
16 - 19
Guide Rail Conditions (*)
MD
EN 81-20/50:2014
X
GOST R 53870-2010
X
GB 7588
X
KOREA
X
ASME A17.1
X
* MO = Machined Oiled
DO = Drawn Oiled
MD = Machined Dry
DD = Drawn Oiled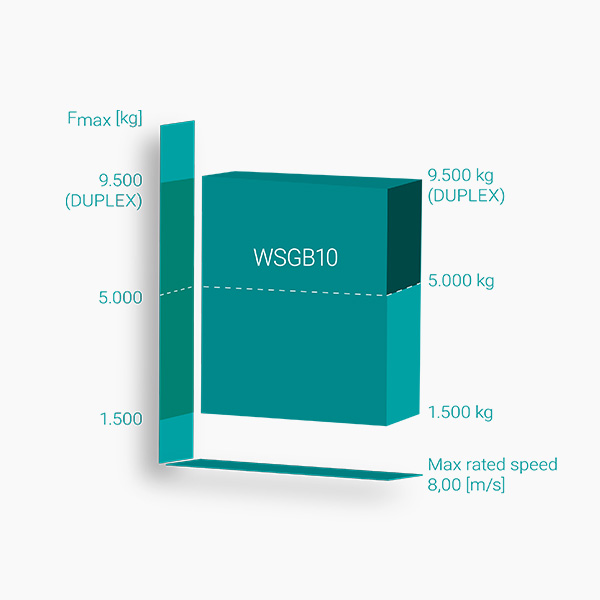 Dit is slechts een selectie van alle beschikbare documenten. U hebt toegang tot alle documenten via de pagina DIENSTEN > DOCUMENTEN ZOEKEN EN DOWNLOADEN en tot alle certificaten via de pagina DIENSTEN > CERTIFICATEN ZOEKEN.
Let's meet at Interlift!
Book your slot with Wittur Sales Team.
Book now!