WCWSG10: Richtingsafhankelijke vang voor het tegengewicht
Innovative and patented system: progressive braking power is generated by expanding the C-profiled safety gear main body, which is acting as a C-type spring.
USP's:
Compacte unit inclusief synchronisatie voor het tegengewicht
Comfortabele "zwevende ophanging" garandeerd een simpele en acurate uitlijning ten opzichte van de leider
Gemakkelijk aan te passen aan leidermaat en vorm. (Verschuifbare vangblokken)
Hierdoor geen aanvullende instellingen nodig wanneer er binnen1 stap gebleven wordt
Integratie in verticale/horizontale frames op aanvraag leverbaar
Verschillende opties zoals vanghuis, koppelstang of aangrijpingspunt snelheidsbegrenzer mogelijk
Up to 8,00 m/s
Direction
Unidirectional
Min. Rated Speed (m/s)
2,00
Max. Rated Speed (m/s)
8,00
Max. Tripping Speed (m/s)
10,50
Min. Mass to be gripped (kg)
1.500
Max. Mass to be gripped (kg)
5.000 (duplex 9.500 kg)
Min. Rated Load (kg)
-
Max. Rated Load (kg)
-
UCM Brake/EN 81-21 stopping gear
-
Guide Rail Blade (mm)
16 - 19
Guide Rail Conditions (*)
MD
EN 81-20/50:2014
X
GOST R 53870-2010
X
GB 7588
X
KOREA
X
ASME A17.1
X
* MO = Machined Oiled
DO = Drawn Oiled
MD = Machined Dry
DD = Drawn Oiled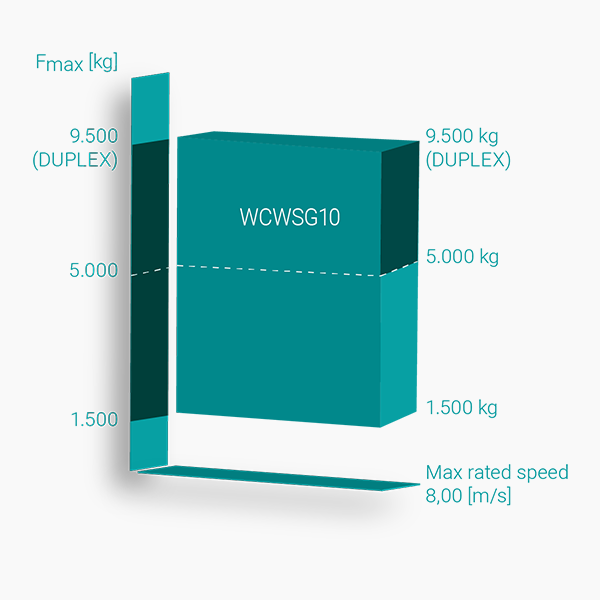 Dit is slechts een selectie van alle beschikbare documenten. U hebt toegang tot alle documenten via de pagina DIENSTEN > DOCUMENTEN ZOEKEN EN DOWNLOADEN en tot alle certificaten via de pagina DIENSTEN > CERTIFICATEN ZOEKEN.
Let's meet at Interlift!
Book your slot with Wittur Sales Team.
Book now!