Description


ART execution achieves a perfect combination of aesthetic appeal, functionality, safety and budget needs.
They are available for the following door products:
Features
Type tested and certified according to EN 81-20/50 
Tempered safety glass
Available upon request in fire rated EN 81-58 E120 and EI60 executions
Flush transom ideal execution for very tall elevator doors in public spaces (hotel,theatres, airports, etc)
Possibility to have underdriven mechanism or upper mechanism with hidden sill
Wide range of finishes as well as coloured and mirror special stainless steel coatings.

PANORAMIC DOORS

It's possible to combine panoramic execution with EN 81-58 Fire rating certification class E and EI.
Full glass panoramic doors are the perfect complement to panoramic elevator shafts and can be applied to historical buildings with very aesthetically pleasing results.


Framed Glass Executions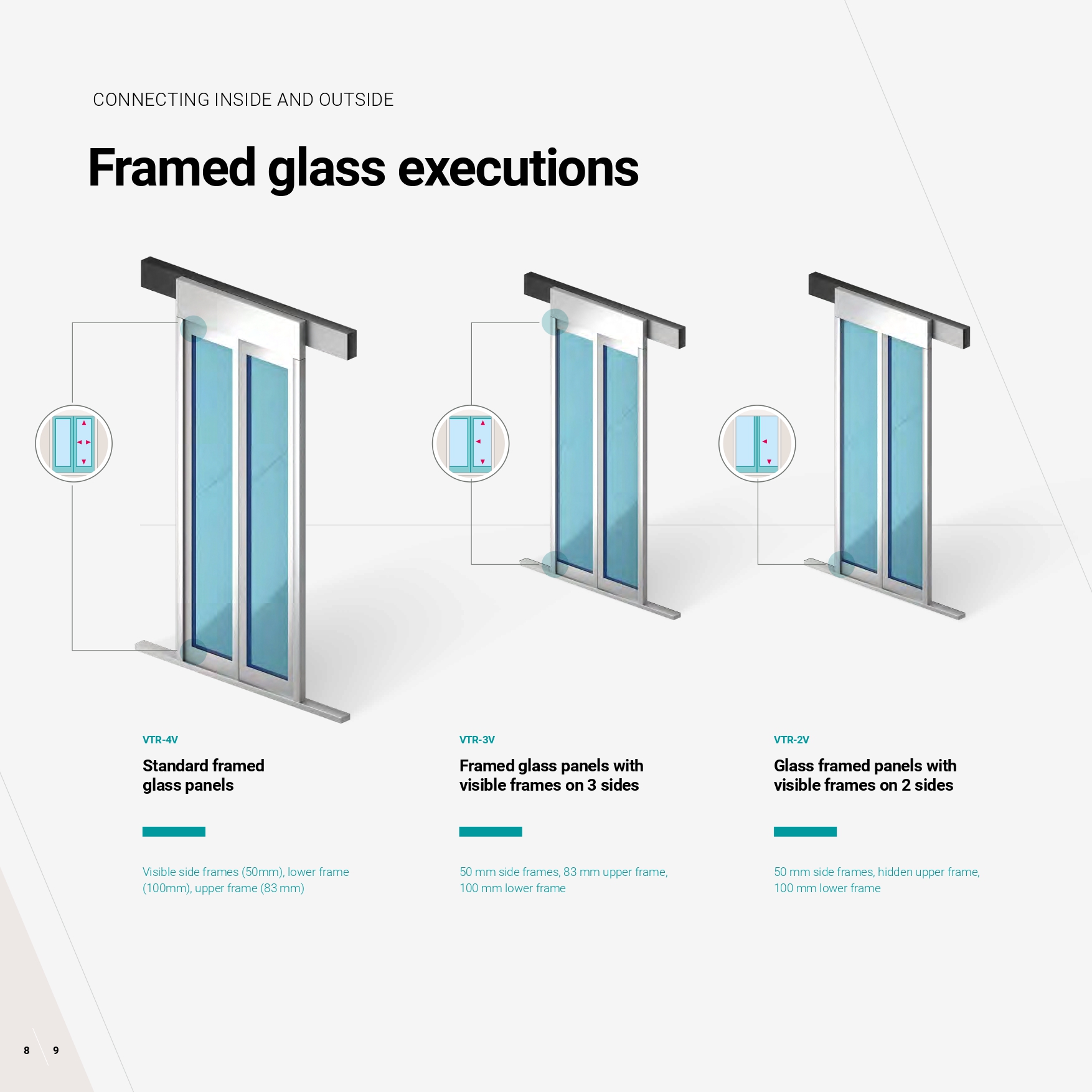 Framed glass panoramic doors

VTR-4V
V. standard

Visible frame on 4 sides

VTR-3V
V. special

Visible frame on 3 sides

VTR-2V
V. special

Visible frame on 2 sides

MECHANISM

Type tested and certified accordingto EN 81-20/50 or EN 81-1/2

Mechanism painted in black RAL 9005

Mechanism painted in special colours

Mechanism cover painted or cladded on request

Mechanism without additional holes

Mechanism cover on the back side

Horizontal door drive on car door

PANELS

Framed glass panels, standard float safety tempered glass

Extra clear float safety tempered glass

Hidden upper panel frame

 

 

Visible upper panel frame H = 83 mm

 

Reduced visible upper frame up to H = 50 mm

 

Visible lower frame H = 100 mm.

Reduced visible lower frame H = 50 mm

Hidden side frame on opening side

 

FRAMES

Painted or cladded frames only on landing side

Internal frame cover, painted or cladded on request

Fully cladded H-shaped frames without side fixing holes

Full glass side frames with same appearance and features as the panels

Upper frame with additional framed glass section (on 4 sides)

SILL

Aluminum sill

Brushed stainless steel sill

Hidden sill

TOEGUARD

Toeguard as wide as the clear opening (C.O.) in plate sheet

Toeguard as wide as the clear opening (C.O.) painted or cladded on request

Toeguard as wide as the sill, painted or cladded on request


 
Full Glass Executions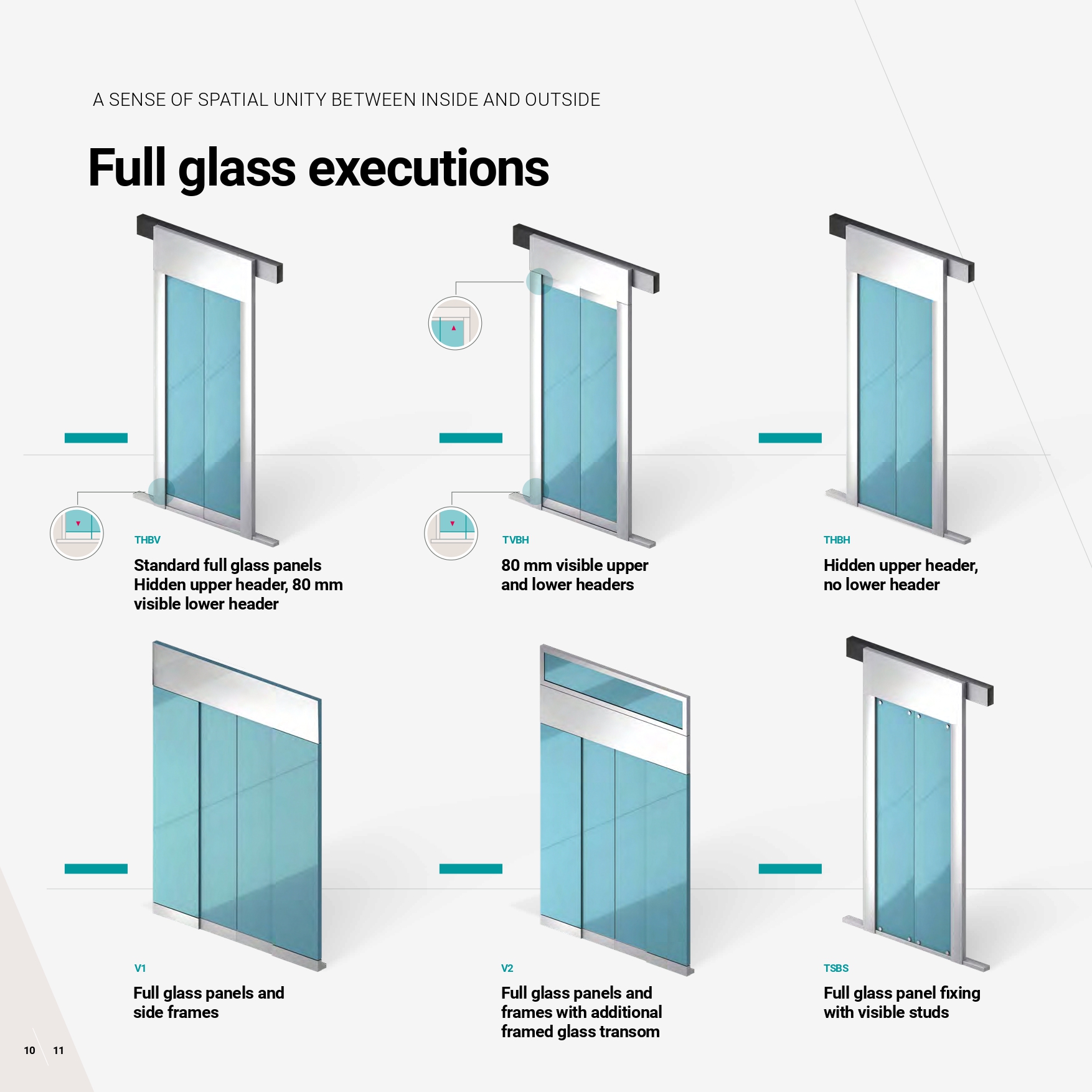 Full glass panoramic doors

THBV
V. standard

hidden upper header,
80 mm visible lower header

TVBV
V. special

80 mm visible
upper and lower headers

THBH
V. special

hidden upper header,
no lower header

THBH
V. special

Panel fixing with visible studs
in the upper and lower header 

MECHANISM

Type tested and certified accordingto EN 81-20/50 or EN 81-1/2

Mechanism painted in black RAL 9005

Mechanism painted in special colours

Mechanism cover painted or cladded on request

Mechanism without additional holes

Mechanism cover on the back side

Horizontal door drive on car door

PANELS

Full glass panels, standard float safety tempered glass

Extra clear float safety tempered glass

Hidden upper header

 

 

 

Visible upper header H = 80 mm

 

 

 

Reduced upper header up to 50 mm.

 

 

 

Visible lower header H = 80 mm

 

 

Reduced lower header up to 50 mm.

 

 

No lower header

 

 

 

Visible studs on upper and lower header

 
 
 

FRAMES

Painted or cladded frames only on landing side

Internal frame cover, painted or cladded on request

Fully cladded H-shaped frames without side fixing holes

Full glass side frames with same appearance and features as the panels (V1)

Upper frame with additional framed glass section (on 4 sides) (V2)

SILL

Aluminum sill

NA

Brushed stainless steel sill

Hidden sill

NA

NA

TOEGUARD

Toeguard as wide as the clear opening (C.O.) in plate sheet

Toeguard as wide as the clear opening (C.O.) painted or cladded on request

Toeguard as wide as the sill, painted or cladded on