SGB 01-02-03-05:Pára-quedas progressivo unidirecional para velocidades médias.
Progressive scalable safety gear applicable for a wide range of loads.
Superb solution for car but also counterweight installation due to reduced width dimensions. Many modernization packages available. Available with compliance for many global lift norms and directives.
USP's:
Pára-quedas de ativação em baixada
Seu poder de freiamento é gerado através de umas sapatas móveis com perfil em C
Ampla gama de aplicação (também disponível em Duplex)
O pára-quedas permite diversas possibilidades de posicionamento (acima ou abaixo) para seu funcionamento
É possível dotar ao pára-quedas com várias opções como suportes, sincronização e ponto de amarre para o cabo do limitador para ampliar ainda mais suas prestações
Up to 3,5 m/s
Direction
Unidirectional
Min. Rated Speed (m/s)
0,15
Max. Rated Speed (m/s)
2,50
Max. Tripping Speed (m/s)
3,55
Min. Mass to be gripped (kg)
500
Max. Mass to be gripped (kg)
9.200 (SGB03 - Duplex 17.692 kg)
Min. Rated Load (kg)
-
Max. Rated Load (kg)
-
UCM Brake/EN 81-21 stopping gear
-
Guide Rail Blade (mm)
8 - 32
Guide Rail Conditions (*)
MO | MD | DO | DD
EN 81-20/50:2014
X
GOST R 53870-2010
X
GB 7588
X
KOREA
X
ASME A17.1
X
* MO = Machined Oiled
DO = Drawn Oiled
MD = Machined Dry
DD = Drawn Oile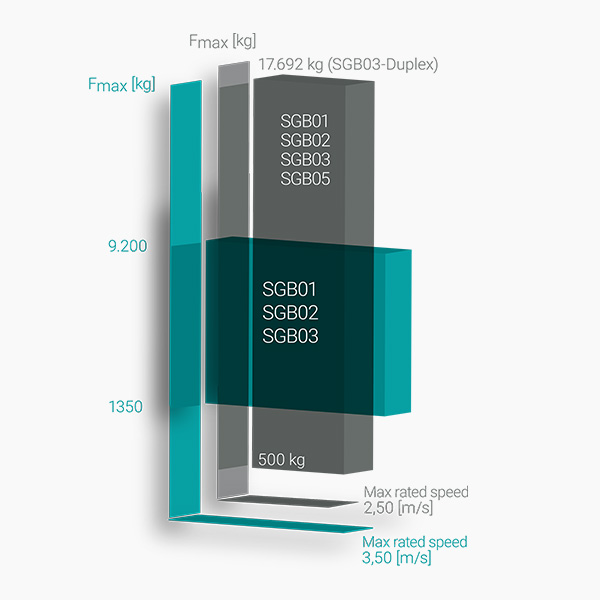 Observe que esta é apenas uma seleção de todos os documentos disponíveis. Você pode acessar todos os documentos da página SERVIÇOS > PESQUISA DE DOCUMENTOS E DOWNLOAD e todos os certificados da página SERVIÇOS > PESQUISA DE CERTIFICADOS.
Let's meet at Interlift!
Book your slot with Wittur Sales Team.
Book now!