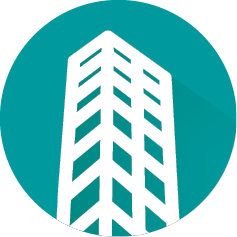 Sematic 2000 B-HR
is the ideal solution for high-rise elevators.
It guarantees extremely fast opening combined with quiet and smooth operation. Elevator door technology at its best!
Advantages:
Fast, quiet and smooth door opening and closing (allowing for efficient traffic management flow)
Wide range of finishes, options and certifications are available
Active behaviour to counter the shaft stack effect
Extremely high reliability / life time
Wide adjustability for high buildings' requirements

INSTALLATION
Door posts partially on the floor
Door posts totally in the shaft
Wide adjustability for high buildings' requirements

PERFORMANCE
All of its components and technical solutions have been analyzed and endurance tested in our laboratories across millions of cycles, ensuring that this door guarantees constant high performance over a long life
Devided in LOW - MED-TOP execution for best adaptation to installation and performance requirements
Upper rollers 84Ø mm external diameter
High opening speed performance
Moving mass calculation in real time for speed optimization

MAINTENANCE
High performance door system over a long life
Safety and comfortably
Minimum maintenance required

EXECUTIONS
Air-seal execution
Anti-vandal execution
Australia execution
Hidden bottom track available (Custom)
Fire-rated executions
Framed glass panels
Full glass (Custom)

FINISHES
RAL 9005
Other RAL colours
Stainless Steel Claddings

CERTIFICATIONS
2014/33/EU
EN 81-20/50 norms
EN 81-71
EN 81-72
EN 81-58 E, EI, EW
DIN 18901 norms
BS 476 Part22 E CLAUSE 8&7
GOST 53780/53871
GOST 30247.3 E & EI
Ukraine: DSTU pr. 81-58 EI60
China: GB7588.1/2, TSGT 7007-2022, GB27903
Singapore: SS550,EN81-58
Australia: AS 1735
Australia: AS1530
Brazil: NBR NM_207
ASME A17.1
UL10B
UKCA
* Certification depend on door execution - ASME and UL 10B available only for 2000B - HR NA
Elevator Rated Speed
Over 5 m/s
Clear Opening (mm)
800 - 2400
Clear Height (mm)
2000 - 3000
C2/Sill Package (mm)
195
T2/Sill Package (mm)
265
T3/Sill Package (mm)
-
C4/Sill Package (mm)
265
C6/Sill Package (mm)
-
T1/Sill Package (mm)
-
Full Glass
Optional (Only for B-HR Low)
Framed Glass
Optional
EN 81-20/50
Standard
EN 81-71
Optional Cat.1
EN 81-72
Optional
EN 81-58 E
Optional
EN 81-58 EI
Optional
BS 476 E
Optional
GOST 53780/53871
Optional
Aluminium Sill
Standard
Reinforced Sill
Optional
Hidden Sill
-
Door Closing
Spirator,
Counterweight (B-HR MED/TOP),
Spring (B-HR LOW)
Please note that this is just a selection of all available documents. You can access all documents from the SERVICES > DOCUMENTS SEARCH AND DOWNLOAD page and all certificates from the SERVICES > CERTIFICATES SEARCH page.
Let's meet at Interlift!
Book your slot with Wittur Sales Team.
Book now!