WSGB10: Uni-directional progressive safety gear for high speed
Single-direction progressive safety gear applicable for a wide range of loads.Superb solution for car but also counterweight frame installation due to reduced width dimensions (modernization packages available). Brake pads from the automotive industry prevent visible wear on guide rails. Available for many global major elevator norms and directives.
USP's:
Safety gear acting in downward direction
Constant brake force generated by preloaded disk springs
Steady deceleration along whole braking distance
Designed to avoid wearing marks to guide rail
Several options for different applications are available
Wide range of options available as safety gear housing, synchronization linkage, governor rope fixing or safety switch
Up to 8,00 m/s
Direction
Unidirectional
Min. Rated Speed (m/s)
2,00
Max. Rated Speed (m/s)
8,00
Max. Tripping Speed (m/s)
10,50
Min. Mass to be gripped (kg)
1.500
Max. Mass to be gripped (kg)
5.000 (duplex 9.500 kg)
Min. Rated Load (kg)
-
Max. Rated Load (kg)
-
UCM Brake/EN 81-21 stopping gear
-
Guide Rail Blade (mm)
16 - 19
Guide Rail Conditions (*)
MD
EN 81-20/50:2014
X
GOST R 53870-2010
X
GB 7588
X
KOREA
X
ASME A17.1
X
* MO = Machined Oiled
DO = Drawn Oiled
MD = Machined Dry
DD = Drawn Oiled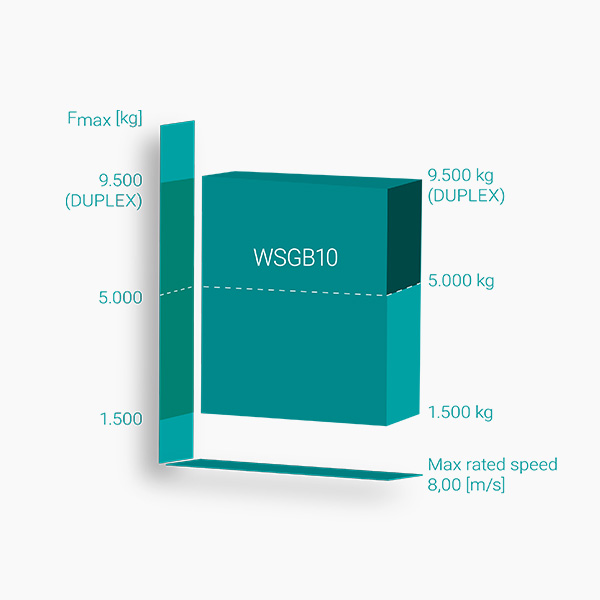 Please note that this is just a selection of all available documents. You can access all documents from the SERVICES > DOCUMENTS SEARCH AND DOWNLOAD page and all certificates from the SERVICES > CERTIFICATES SEARCH page.
Let's meet at Interlift!
Book your slot with Wittur Sales Team.
Book now!