SGA-I-70: Unidirectional Instantaneous Safety Gear for heavy duty applications
Unique product for very heavy freight elevator applications. Also a perfect modernization solution.
USP's:
Safety gear acting in downward direction
Perfect solution for high duty applications with heavy loads
Suitable for rail head width 29 and 32 mm
Easy installation
Interface housing for easy integration into car frame structure and synchronization available as package
Direction
Unidirectional
Min. Rated Speed (m/s)
-
Max. Rated Speed (m/s)
0,63
Max. Tripping Speed (m/s)
1,00
Min. Mass to be gripped (kg)
-
Max. Mass to be gripped (kg)
51.908
Min. Rated Load (kg)
-
Max. Rated Load (kg)
-
UCM Brake/EN 81-21 stopping gear
-
Guide Rail Blade (mm)
28,6 / 32
Guide Rail Conditions (*)
MO - MD
EN 81-20/50:2014
X
GOST R 53870-2010
-
GB 7588
-
KOREA
-
ASME A17.1
X
* MO = Machined Oiled
DO = Drawn Oiled
MD = Machined Dry
DD = Drawn Oile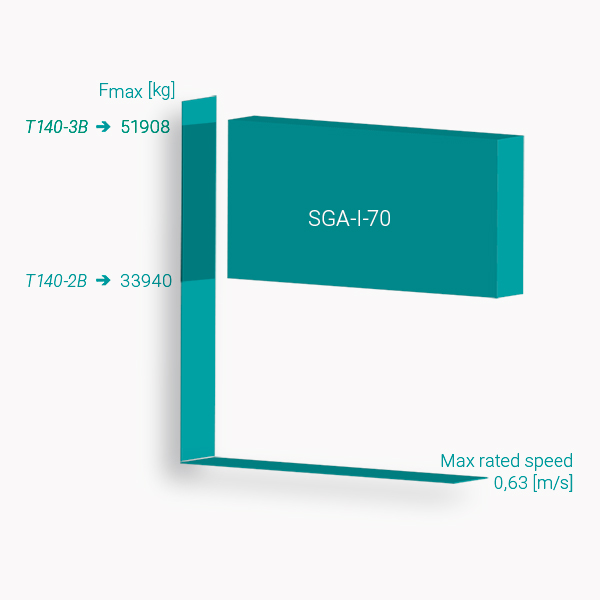 Please note that this is just a selection of all available documents. You can access all documents from the SERVICES > DOCUMENTS SEARCH AND DOWNLOAD page and all certificates from the SERVICES > CERTIFICATES SEARCH page.
Available documents
1 files