Description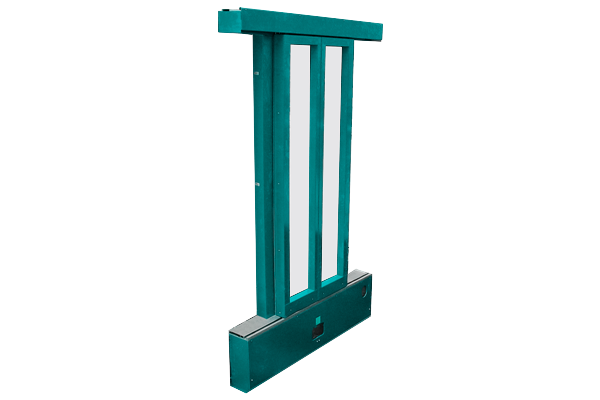 The first ever certified automatic door with optical coupling

These door systems, based on optical coupling, are the right solution for all those situations in which mechanical coupling is not possible. 

Both the car and the landing door feature linear belt traction operators, each with its own engine. They couple through an optical device, integrated into the engine SWS controller, allowing a misalignment up to 50 mm between the centers of the emitter and the detector. Being prEN 81-22 certified, SWS is ideal for inclined lifts; inclinations between 15° and 75° are allowed and, for complex installations,  it's even possible to have different inclinations from floor to floor.

A fully covered operator guarantees high IP ratings and protection degrees even in extreme weather conditions. A wide range of finishes, fire certifications and special solutions are available.

 
 Product Range
Model
TB min-max (mm)
TH min-max (mm)

 K-S 2R/L

800 - 1200
2000 - 2200

 K-S 2Z

800 - 1200
2000 - 2200
For further infomation see our technical catalogues
 FIRE RATED EXEXUTIONS - EN 81-58
 Model
Steel Doors
Framed Glass Doors
 S 2R/L
E 120
EW 60
EI 60
EI 120
E 120

 S2Z
BS 476, GOST and many other certifications available. Call for information.
 DOOR AND FRAME FINISHES
STANDARD
OPTIONS
 

RAL 7032 powder coating

 Other RAL Colours

 Framed glass panels

 Stainless steel claddings

 Skin plate claddings
 BOTTOM TRACK
STANDARD
OPTIONS
 

Aluminum

 

Steel

 

Stainless Steel

 

Brass, Bronze
 MAIN FEATURES
STANDARD
OPTIONS

 Certified locking device

EN81-20/50
EN81-1/2

 Position of the lock release

Integrated into the
header or in the panel

 Door closing

Spirator/Counterweight

 Door panels

Front/rear cladding

 Header height

400 mm

 Frame

135×45 mm door posts
Reduced door posts
(min. 80×45 mm)
Increase door posts
(> 135 mm)

 Installation

In the shaft
In niche
 

Kit man in the pit

In case of EN81-20/50
In case of EN81-1/2

 Monostable contact

EN81-20/50

 EN81-1/2

 Impact robust
 packaging
Cardboard box
Wood (ISPM15)
 Avweage car door
 cycles per year
500.00

 Coupling type

Optical(mechanical
coupling free)
 SPECIAL EXECUTION
OPTIONS

 Smoke-seal/Air-seal execution

 

Anti-vandal execution

EN81-71

 Hidden bottom track

 Underdriven operator

 Heated bottom track