Description

Wittur will be present at Interlift, the international trade fair for elevators, components and accessories which is scheduled to take place at the Augsburg Exhibition Centre from October 18th to October 21st, 2011. The Wittur stand (7155) is located in Hall 7.
Wittur is going to unveil a number of innovations from its range of products; most of them will be marked by a
new logo, the "A" in a round arrow.
This logo highlights Wittur products which prominently feature energy efficiency, innovation, environmental awareness and reliability.
See you in Augsburg at Wittur stand!
Click on the map to find out information about each sample.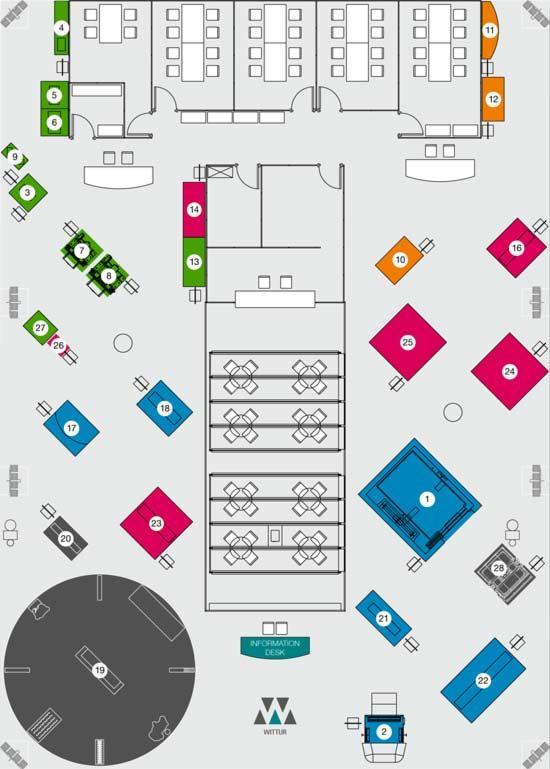 Doors
Interlift visitors will be able to experience Wittur MDS1: Wittur's range of state-of-the-art commodity door for new lift installations in residential buildings, which offers easy and fast setup, low maintenance, reduced energy consumption and EN81-58 fire rating as standard.
Wittur will also be displaying the latest additions to its long list of certified doors: the LUNA round door EN81-58 E120, one of the very few fire-rated round doors available on the market; the HYDRA EI60 glass-framed door, one of the very first glass-framed doors with EN 81-58 EI60 fire rating to be presented to the market; and the PEGASUS EN81-71 vandal resistant door in category II execution. The FINELINE door system for modernizations will be on show in its EN81-58 E90 fire-rated execution. The range of AMDC operators will be part of Wittur exhibits for modernization purposes. The PEGASUS door will also be displayed in an execution fitted with optional features for high rise lift systems.

Cars
Wittur will be introducing MCS1, a new range of modular lift cars based on an innovative fixing system for car panels, and available in a complete range of dimensions as per ISO 4190-1 specifications.
Moreover, Wittur will be exhibiting the Culumbia panoramic lift car for tailored installations fitted with full glass panels and an under-driven Hydra plus car door.

Drives
Wittur is going to present for the first time to the public two new synchronous gearless drive models: WSG S0.3 is a space-saving, energy-efficient gearless drive ideal for home lifts and residential buildings; WSG-25 is an energy-efficient high-performance gearless drive, ideal for fast and demanding applications. The integrated fail-safe brake of these two gearless drives can be used in the context of a complete certified UCM solution compliant with EN81 1/2 A3.
Wittur D-PACK, which combines WSG-S1.3 ECO Gearless Drive and Wittur GLD frequency inverter, is a package designed for fast and easy installation: a built-in databank of all Wittur S drives enables fast auto-tuning operations also with load on the machine. The complete new range of Wittur GLD customized frequency inverters for lift applications will also be on display.
Innovative hydraulic drive solutions will be present with the Wittur HI inverter-driven hydraulic pump, which offers high travel comfort and reduced energy consumption. The Wittur UCM solution for hydraulic lifts is also part of the line-up of hydraulic products: HDU valve can be supplied as a stand-alone valve for modernizations or as a device integrated into the Wittur range of hydraulic pumps. In both cases, the HDU valve against UCM (uncontrolled car movement) is certified as per EN81-1/2 A3.

Safety gears
WITTUR's innovative and unique UCM (uncontrolled car movement) solution brings together EOS (Wittur's advanced electronic overspeed governor) with a variety of ancillary safety equipment including the Wittur range of progressive safety gears and brakes installed in gearless drives. A selection of Wittur safety components will be available on the stand, including the mechanical overspeed governor OL35, sliding guide shoes, roller guide shoes, the SGB range of safety gears, the Wittur progressive safety gears USG-25P, BSG-25P and the new CSGB series.
Selected high performance safety components displayed on the stand will include roller guide shoes, the OL100 overspeed governor and the new WSGB-10 Safety gear.

Systems
A section of the Wittur stand will be devoted to complete lift packages, including an MRL W-Line machine room-less lift system in EN81-71 Category II vandal resistant execution, an HHL W-Line Machine Directive compliant elevating platform for home lifts, and an MRM W-Line, a new Wittur package for the modernization of existing lifts, featuring extremely reduced pit depth and fast installation.

The Wittur approach
Last but not least, Wittur customers will also be able to experience the Wittur approach: a combination of technological innovation powered by its eight competence centres, on-site experience for tailored solution to any installation issue, and competent technicians who act as partners with their customers to help find the best solutions for their requirements from the wide product portfolio of Wittur.
Wittur's network of production and sales companies is offering worldwide the same excellent performance, applying the same production system and processes, sharing the same principles and the same values.
Innovation, energy efficiency, performance, special expertise and partnership with customers will be the keywords for Wittur at Interlift 2011.