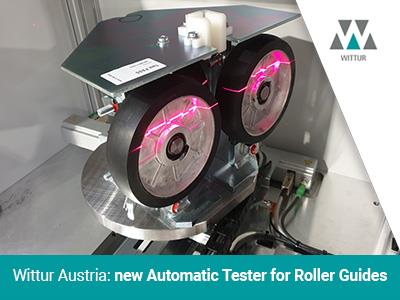 Listening to and acting on customer feedback is essential to continuously improve the quality and reliability of our products.
This is what recently happened at Wittur TAC (Test and Application Center) in Scheibbs (Austria), where a new Automatic Tester for Roller Guides ("RG Tester") has been designed & developed.

This innovative testing solution guarantees that all roller guide parts match customer's requirements and dramatically reduces the possibility of assembly errors. the TAC has implemented a new fully automatic test station, at the end of the roller guide production line, which check and verify the correct assembly of each and every product manufactured before shipment to customer.  



How it works



The main component of the test station is an integrated line laser sensor. Thanks to its sensor technology and 3-axes movement, the RG Tester is able to measure test points easily (which is almost impossible with conventional measurement tools) as well as length, depth and thickness of the assembled product at any exposed locations.

The RG Tester is also connected and integrated with our ERP system. The web-based user software is fetching data from the ERP system and does automatic tests and measurements for all necessary test points. These data are then stored automatically into a database for additional quality purpose (traceability, big data analysis, FPY, etc.).

At the end of every successful test, the tester software is printing out a "PASS" label for visual control.

The software provides also a learning interface that offers the chance to add new or edited existing products or test points easily.
 
With this new end of line testing, Wittur customers can rely on virtually error free delivery of their roller guides orders.